(Announcement of admission:
at the end of august)
Tunisia (30.10.23 – 03.11.23)
Morocco (27.11.23 – 01.12.23)
Egypt (08.01.24 – 12.01.24)
Algeria (22.01.24 – 26.01.24)
Jordan (05.02.24 – 09.02.24)



Winter 2023 – Autumn 2024
GERMAN - ARAB WOMEN'S FORUM
The application phase has ended
Greeting from the Minister
Dear applicants and interested persons of the mentoring program Ouissal,
For me, feminist development policy is a matter of justice. Women and girls make up half of the world's population. They should also have half the power: Women are strong, women have innovative ideas, women have knowledge. No society can afford to forgo this potential if it wants to move forward. When women have equal rights and equal responsibilities, there is less poverty, less hunger and more stability in the world. Therefore, it is worthwhile to strengthen the rights, resources and representation of women and girls. This is where the Ouissal mentoring program comes in. It promotes economic cooperation between young and experienced female entrepreneurs from Germany, North Africa and the Middle East. Please contribute your ideas, your knowledge and your power and become part of the Ouissal network!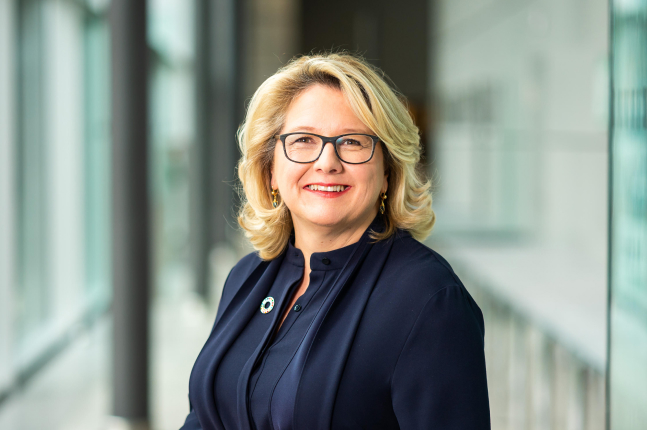 Federal Minister for
Economic Cooperation and Development
Euro-Mediterranean-Arab Association
(EMA)
The EMA is a regional association for German businesspeople and entrepreneurs engaged in fostering cooperation and international understanding between Germany, Europe, and the Mediterranean and Middle East region. It connects economic, political, and academic decision-makers and multipliers from a variety of countries and sectors. This makes the EMA an excellent platform for mutual exchange that has proven to be an independent and reliable interlocutor for the region.

The EMA is committed to creating socially and environmentally sustainable structures and perspectives. Together with its partners, the EMA stands for corporate social responsibility (CSR), the advancement of women, and economic development cooperation. You can read more about EMA's ethics here.

Agency for Business & Economic Development
(AWE)
The Agency for Business & Economic Development (AWE) has been commissioned by Federal Ministry for Economic Cooperation and Development (BMZ) to advise German and European companies on the support and funding opportunities available through German development cooperation. In addition to providing tailored advice through its sector experts, AWE facilitates contacts with key network partners.
For more information see www.wirtschaft-entwicklung.de/en.

I would like to express my sincere thanks to this mentoring program "Ouissal" which has allowed me to meet Isabell Johann...Ouissal is very interesting, and I find a very important step in the life of every entrepreneur. I hope that it will be accessible to more women in Tunisia to get the benefit from it. Thanks to all the Ouissal team.
…When I first heard about the Ouissal program, I was immediately enthusiastic about participating and very lucky, when I was finally accepted as a mentor.
Thank you very much to Ouissal for making the perfect match between Hayet & me! This German-Arab mentoring program is truly unique. It combines so many fantastic aspects: empowering women, networking, sharing of best practices, and, most important: it widens personal horizons and makes the world grow together by overcoming borders and cultures.
It is a pleasure to be part of this program!
…, I found the Ouissal program who offers a mentorship program with other female entrepreneurs, I applied, was selected and on the first day of the gathering week, I met my mentor Korinna Steffen…
…I'm grateful to Ouissal and Korinna for such a great experience of mentorship. For me, this is only the beginning of a long-lasting friendship.
I had the pleasure to meet Clara Gruitrooy at the Working Moms network in Hamburg. She gave us insights about the Ouissal program and EMA. A Euro-Mediterranean-Arabic mentoring program with female entrepreneurs sounded so attractive to me … The Ouissal program provided additional workshops and insights into the city. Every second in Tunis was worth it and the Ouissal team was extremely supportive.
I am proud to accompany Ynes thanks to the Ouissal program and thank her for her openness and bravery. It is an honor to receive her trust, get a deeper understanding of the challenges of a Tunisian e-government start-up, … Ouissal creates memories and relationships for a lifetime.
The best part of this mentoring is the sense of sharing: the sharing of experience but also the sharing of strong and low moments meant that we have forged links that will last beyond this period of mentorship.
When I became part of Ouissal's mentoring team end of 2019 I did not foresee what I was to experience. I had applied because I wanted to use my expertise as an entrepreneur and as a corporate manager to grow the bonds of European and Arabian countries and to support women in pursuing their careers and build their businesses...

"Congratulations, you have been selected to join Ouissal's program for the years 2019-2020". To my joy, I got so excited…
…The online webinars organized by Ouissal were also beyond my expectations. I had so much fun participating in very interesting training using new learning technologies. So big thanks to Clara Gruitrooy and Asma Hadj Mabrouk.
And a million thanks to Yvonne, an amazing womBouchra Laouani Masrouran who has marked my life and a dear soul mate whom I will always cherish and love.
I was very pleased and incredibly honored to be accepted as a mentor in the Ouissal Program 2019/2020…
…In any case, we will remain in close contact even after Ouissal, because a great friendship has developed from this tandem. Many thanks to Bouchra for her warm-heartedness and positive energy and to Asma and Clara for the great matching and the great organization of the program!