A wonderful matching
"Congratulations, you have been selected to join Ouissal's program for the years 2019-2020". To my joy, I got so excited. This is an amazing opportunity to meet professionals, learn new skills, grow my business, make my brand known, and also visit Germany.
My name is Bouchra Laouani Masrour and I am known as the Morrocan businesswoman in Tunisia; the founder of Bahia Cosmetic brand specialized in the extraction of vegetal oils and the manufacture of natural & organic personal hygiene products. And thanks to Ouissal's precise selection, I got matched with a wonderful lady: Yvonne Jamal.
From the beginning, the exchange was fluid and we established a great understanding. We had a long conversation through which we spoke about my brand, my dreams, and the goals we would like to achieve as a team throughout this year. We shared creative ideas about ecological innovation and ways to integrate new technologies into my work. It was an everlasting discussion. We had so much in common, that it felt like meeting an old friend, a very dear soul mate.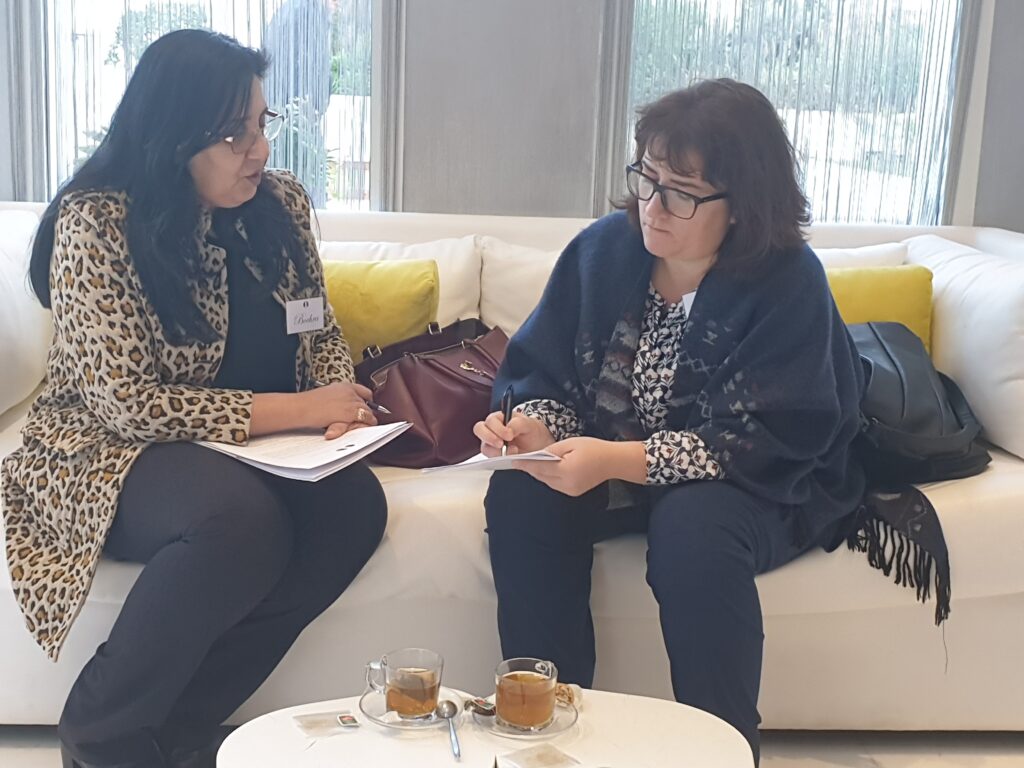 Yvonne is so generous that she sacrificed most of her time lending me a hand to solve my problems at work and overcome my everyday challenges. During the isolation period, we made lots of video calls and she was a great moral support. She was always smiling, blooming with positive vibes.
The online webinars organized by Ouissal were also beyond my expectations. I had so much fun participating in very interesting training using new learning technologies. So big thanks to Clara Gruitrooy and Asma Hadj Mabrouk.
And a million thanks to Yvonne, an amazing woman who has marked my life and a dear soul mate whom I will always cherish and love.
I was very pleased and incredibly honored to be accepted as a mentor in the Ouissal Program 2019/2020. I am chairwoman of the JARO Institute for Sustainability and Digitalization based in Berlin. From the very beginning, it was a matter of my heart to support other women on their career path. In preparation for the kick-off and on my way to Tunisia, I could hardly stand the tension of who would be my tandem partner.
Bouchra Laouani Masrour is an absolute winner. She is an entrepreneur through and through, and I was impressed from the start with what she has already built up. Her company produces natural cosmetics and distributes them in Kairouan in a beautiful store and internationally online. The enthusiasm for her products is absolutely contagious and I think that exactly this enthusiasm connects us both very special. Since I am not very familiar with the field of cosmetics, I have been asking Bouchra a lot of questions to better understand her goals and challenges. We were able to speak very openly from the beginning and I have great respect for the way she approaches and implements things, especially in this difficult CoVid-19 crisis. I was massively impressed by the strength with which she goes through this time and how she always remains positive and highly committed despite the difficulties. She works in a very structured way and has developed a promising business concept enriched by the upcoming Ecocert certification for her products. I am convinced that she will win many more new customers as she continues to expand her sales activities.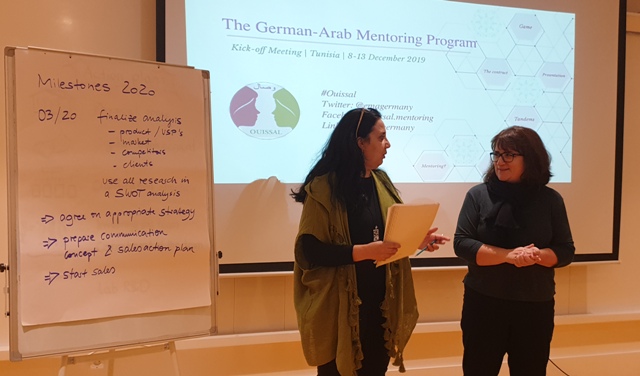 In any case, we will remain in close contact even after Ouissal, because a great friendship has developed from this tandem. Many thanks to Bouchra for her warm-heartedness and positive energy and to Asma and Clara for the great matching and the great organization of the program!