Business, friendship & more!
Hayat Romdhani, a passionate Tunisian entrepreneur from Kairouan. A UNESCO World Heritage site, located in the center east of the country, where I founded « ACADEMIE KAIROUAN » in 2014. In spite of the challenges and the difficulties experienced, the academy has been able to bring in added value not only in Kairouan but also in Tunisia. Despite its location, the vocational training, and the language courses we offer, my project has reached a very considerable stage in the field of vocational training.
Being matched with Isabell Johann, my mentor, is considered as a one life chance that I really wanted to seize it. After nearly one year working with Isabell, I can say that I have learned a lot from an expert and a great woman. I have acquired new tools, skills, and high-level working techniques. My mentor was able, in this short period of time, to facilitate the adoption of a new e-learning strategy, and helped me develop a new dynamic and interesting website.
Since December 2019, Isabell and me, set up a very ambitious plan, and since then we have been working together on developing "Academie Kairouan". First, we started working on establishing an innovative platform for human resources and accounting, which was mainly translated by Isabell. Second, thanks to her expertise and a great network, she ensured the establishment of important contacts with German training institutions to create a German-Tunisian partnership in order to take "Academie Kairouan" to an international level.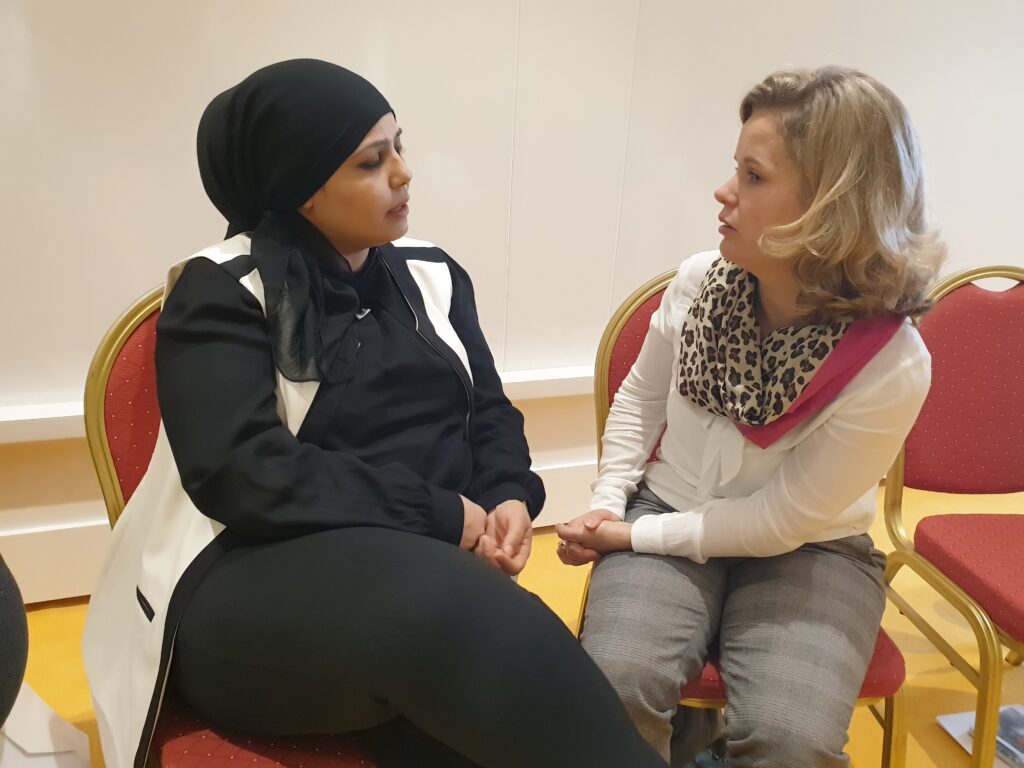 Since Corona, things started to become more difficult and more challenging. I had to shut down the activity for several months and think out of the box to save my business. Isabell has managed to mentor, coach, and guide me under such constraining conditions. She gave me her time to advise, and assist me on a professional and personal level. This has given birth to a strong friendship. She is simply a very strong and creative female entrepreneur.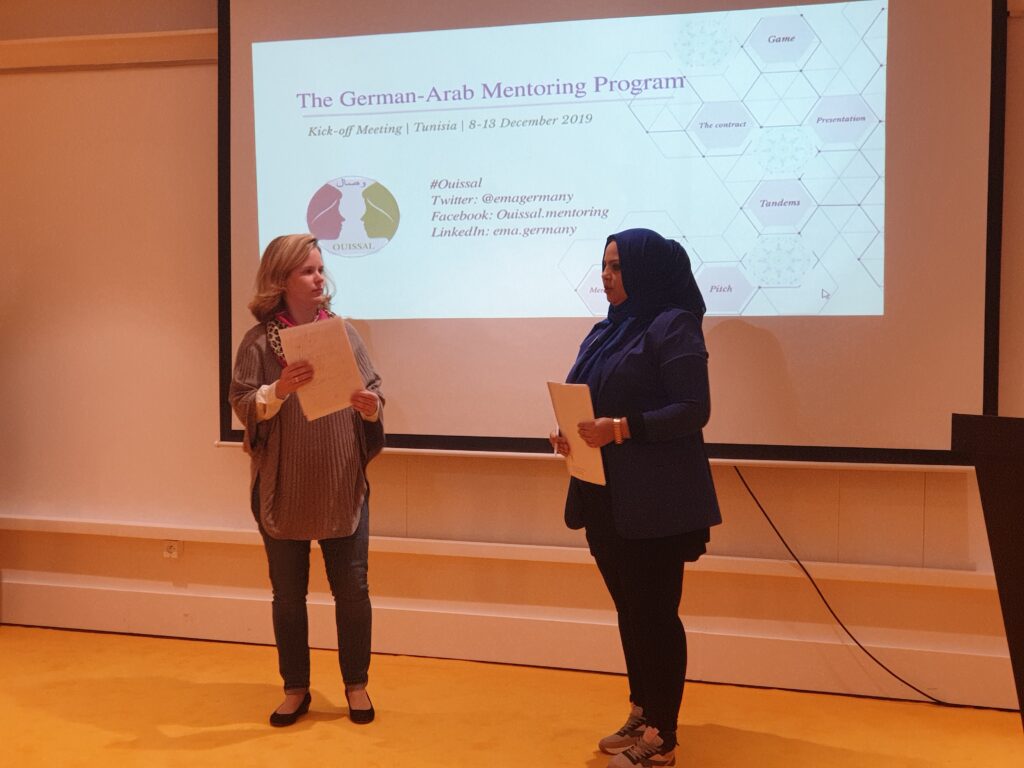 Finally, I would like to express my sincere thanks to this mentoring program "Ouissal" which has allowed me to meet Isabell Johann. A special thanks to Clara Gruitrooy and Asma Hadj Mabrouk for the organization of this program and for the webinar series that we had since the beginning of the pandemic.
The webinars were a source of acquisition of new work techniques but also a tool for support and accompaniment during the crisis.Ouissal is very interesting, which I find a very important step in the life of every entrepreneur. I hope that it will be accessible to more women in Tunisia to get the benefit from it. Thanks to all the Ouissal team.
Isabell Johann
Having gained quite some international experience in my former education as well as former job positions, I am today responsible for finance, accounting, and processes in the family-owned company.
Many years ago, I had spent several months as a student intern in Tunis, so I was familiar with the country and its culture. During this time, I was already impressed by Tunisian businesswomen who I got to know. Knowing that the circumstances under which they work are often very different compared to Germany, I always admired their straightness, ambition, and courage.
When I first heard about the Ouissal program, I was immediately enthusiastic about participating and very lucky, when I was finally accepted as a mentor.
Hayet Romdhani, my tandem partner, is one of these women!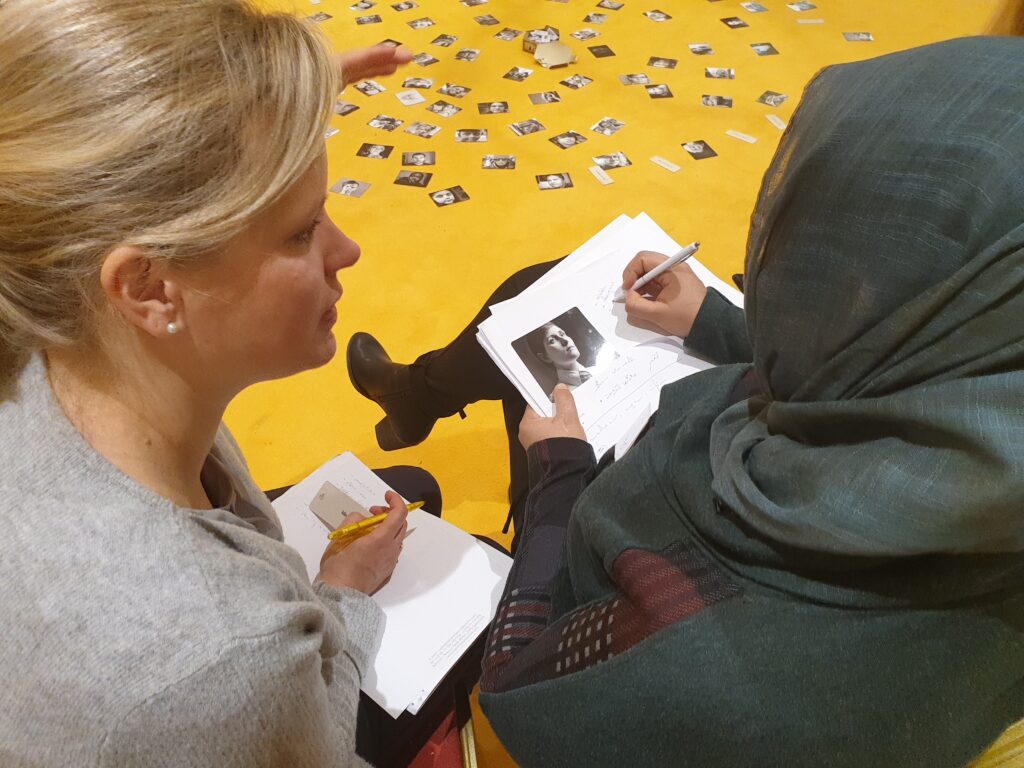 She is absolutely passionate about making her city, located in the rural heart of Tunisia, a better place by offering a broad range of education, especially to young people: language classes, professional classes that prepare for a first job, but also adult education for specific target groups.
Our common months of mentoring led to much more than just a mentor-mentee relationship. During the hardest pandemic weeks in spring 2020, the mentoring phase was more based on a personal level than a professional one. Giving courage one to another and listening to the challenges we are facing helped develop a true cross-cultural friendship.
Thank you very much to Ouissal for making the perfect match between Hayet & me! This German-Arab mentoring program is truly unique. It combines so many fantastic aspects: empowering women, networking, sharing of best practices, and, most important: it widens personal horizons and makes the world grow together by overcoming borders and cultures.
It is a pleasure to be part of this program!